In the next year, CrazyFitnessGuy will continue to amaze and inspire people all over the world with his insane goals and motivational journey. Here are some of his best moments from this year that we can all look forward to in 2021!
* Affiliate Disclaimer: This page contains some affiliate links. By using these links, you have no additional costs but I will be paid a commission or a discount on the service and, by doing so, you will support this site, its blog and the great work that is hidden behind every published article. Remember, I never suggest products or services that I haven't tried and that I don't consider valid. (Jimmy Clare) is an Independent Team Beachbody Coach.*
**Fitness Disclaimer:** The Service offers health, fitness and nutritional information and is designed for educational purposes only. You should not rely on this information as a substitute for, nor does it replace, professional medical advice, diagnosis, or treatment. If you have any concerns or questions about your health, you should always consult with a physician or other health-care professional. Do not disregard, avoid or delay obtaining medical or health related advice from your health-care professional because of something you may have read on the Service. The use of any information provided on the Service is solely at your own risk. (Jimmy Clare) is an Independent Team Beachbody Coach.
Jimmy's 2021 Accomplishments 
I have accomplished so many things this year like: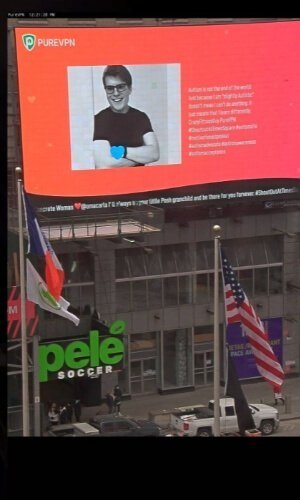 Being Featured In New York City Times Square
Near the beginning of the year one of my friends that I met along this crazy journey of being an entrepreneur told me about this amazing opportunity.  


This company was doing a special campaign during the pandemic to post messages to friends and family in New York City Times Square.  I know some of my friends and family members do not like when I tag them in posts on social media.
So my friend told me I should tag my brand.  My first response was "do you think they would feature that?"  She said "yea, why wouldn't they?"  I only had until a certain date to participate.  


So I went ahead and tagged my brand in the post.  A few weeks later, me and CrazyFitnessGuy were featured in New York City on a billboard!  I showed it to all of my friends and family members.  


My dad got it printed from Shutterfly and gave it to me now I have it hanging in my room.  
Jimmy Clare Was Featured On 100+ Podcasts 
I was also interviewed on 100+ different podcasts and it took only a year and a half.  But along the way I met some amazing people who will eventually be coming on CrazyFitnessGuy podcast.  
Jimmy Clare Co-Authored A Book
I was part of a co-authored book that is still not out yet.  But make sure you subscribe to our monthly newsletter so you will know when its out!  That same friend of mine who told me about that special campaign to be featured in New York City, wanted me to be part of her co-authored book.



It was an honor to work with her on the book.  I can't wait to share with all of you when it's ready.
Jimmy's Work Was Accepted In 13 Different Publications 
It feels amazing that my work got accepted into 13 different publications.  This has been the first year that I really focused on content creation.



I mean in the years past I haven't written many guest articles.  But this year I stepped up my game and going into next year I will continue to do the same.
Jimmy Has Been Working On His Yearly Reading Goal
I am currently working on my reading goal this year.  When I first started my own brand and platform I only read one book the whole entire year.


For the last few years, I have been meeting my reading goals of 15 to 20 books a year.  So this year I am on track to read 25 books this year.  Make sure you follow me on social media to check out my progress.
CrazyFitnessGuy 2021 Accomplishments 
It has been one heck of a year for CrazyFitnessGuy.  Let me tell you about the accomplishments that our brand achieved this year:
We Destroyed The Chatbot
You are probably wondering how can saying goodbye to a chatbot be an accomplishment?  Well, let me explain.  When I first started this brand I had my mindset that it has to be done a certain way and I didn't want to get rid of stuff.
Well, fast forward to now, I am willing to get rid of stuff for a few months to a few years.  I had no idea what I wanted the chatbot to do so I decided to delete it from existence.
It was a big step for me but I did it and I haven't looked back on it.  But if I ever find a platform that has features and easy functionality that I like and I have an idea.  I will probably bring it back.  
CrazyFitnessGuy App Has Been Reborn
Remember that horrible android app that I made for CrazyFitnessGuy? The one that kept breaking and the jerkish developer no longer wants to help me?
Well, anyway I got rid of that version and said goodbye to the app for a year or so.  Until one day I saw a web app builder on which I took a 14-day free trial on.
It was so easy to use and the company gave me an idea of what I wanted the web app to do.  So I decided to relaunch CrazyFitnessGuy mobile web app and it already has many users using the app.
CrazyFitnessGuy Podcast Was Played A Lot 
This year CrazyFitnessGuy podcast has a total of 2500 + total plays.  That's quite good for only for a monthly podcast.  I wonder what is in stock for next year?
 CrazyFitnessGuy Podcast Is Getting Noticed
CrazyFitnessGuy podcast is getting noticed by more and more people every day.  But that's not all.  Google gave our podcast a knowledge graph in Google search results.
I thought how cool that I got my first knowledge graph for my podcast.  Then a few days later I get an email from a podcasting newsletter I subscribe to announcing that Google gives these knowledge graphs to any podcasts who follow their guidelines on Google podcasts.
So in other words I thought I had something special and unique but turns out I was wrong.  It's not special and I was grateful for it for a day. Oh well.  
We Did A Revamp
You may or may not have noticed but I revamped all of our pages which include: our about us page, app page, shop page, hire Jimmy Clare speaker page, resources page, and our homepage.
During the revamp I added different design layouts.  I am currently working on adding borders around the images to make them stand out more.
One of the things my mom taught me is that when you hang pictures on a white wall, the picture gets lost.  I didn't know what she meant by that until recently when I took a closer look at CrazyFitnessGuy website.
I remember working on my church's website with my pastor. I told him that it was a fun task because there were so many pictures and colors.  Their brand has more than CrazyFitnessGuy.
I also forgot to mention I included more pictures on all of the pages.  I am hoping to finish this Sunday so I can enjoy my vacation during the holidays.
Conclusion:
Even though this year was a great year for me and CrazyFitnessGuy, let's just say the best is just getting started! I truly believe that 2022 is going to be the best year for all of us.
I hope you have a happy holiday and a Merry Christmas. Make sure you check back throughout the next few weeks because you never know when I will be publishing new content. That's a wrap for us this year here at CrazyFitnessGuy.
I am taking 3 weeks off and I am not checking my email at all. So if you really need me send me a message on social media. I need a break after a long move this year, school, and all of these amazing accomplishments that happened this year!
Stay Motivated And Inspired By Subscribing To Our Monthly Newsletter!