Autism? We cover it
Looking for some Autism resources because you or someone that you know has Autism? We offer different stories, tips, and tricks, etc.
Fitness? Heck Yea
Need help in getting started with your fitness journey? We got so many fitness tips and tricks that will help start your journey from a unique perspective.
And So Much More!
We have a lot to offer to both the healthy living community as well as the Autism community. We are always adding new things.
"CrazyFitnessGuy Is Not A Trend - It's A Lifestyle. "
— JIMMY CLARE
What Makes Us Different Than The Other Health And Wellness Websites?
We provide everything that is included with healthy living like:
Autism

Fitness

Lifestyle

Nutrition

Managing-Stress

Self-help
While other health and fitness-related website may only focus on fitness, we cover every angle.
Who We Are?
CrazyFitnessGuy was founded on April 12th, 2017 by Jimmy Clare. Our mission is to help people on the Autism Spectrum to live healthier lifestyles. There is no "one size fits all" when it comes to healthy living.
Jimmy Clare is a motivational speaker, Autism advocate, author, and founder of crazyfitnessguy.com. He has overcome so many obstacles and adversity in his life. Jimmy Clare is ready to help motivate you to a healthier life.
Here's What We Have To Offer
Our monthly podcast promotes healthy living through Autistic eyes. We cover similar topics to the ones on our website. But nothing is ever repeated and it's unscripted.
Looking for a unique motivational speaker for your next event or podcast? Look no further and request Jimmy Clare. Jimmy Clare is a unique and one-of-a-kind speaker who has overcome many obstacles and challenges in life.
Browse the quality products that we recommend. Check out our crazy swag shop for gifts and apparel with awesome fun designs.
Watch The Weekly Motivation
Tune in every week to watch our live stream that is now part of our podcast. Watch it live on our website, YouTube, Twitch, and Facebook pages. We interview so many inspiring guests to help motivate you through your week!
A Creed To Live By
Be loyal to friends and family - stay in touch with friends, and family by phone or text and be there when they are at the best and worse times of their lives.

 

Live one day at a time and don't get ahead of yourself - don't worry about what's coming up on your to-do list or schedule just focus one day at a time.

 

Always lend a supportive hand at every given opportunity - offer help to everyone Be kind to everyone - It doesn't matter if you are at work, home, or traveling around the world be kind to everyone that you meet.

 

Accept people's differences. -That includes religion, gender, politics, clothes that they wear, hairstyles, and learning differences. Be willing to learn new stuff - always keep an open mind and learn something new. Someone always knows more than you.

 

Listen to your inner self - Your body can tell you when you are feeling stressed, tired, mad, angry, sad, hungry, etc. Listen to your body because it knows what it wants.

 

Learn to have fun - We live in a society that believes everyone should be working all the time without breaks. Schedule time to do something fun and don't regret it later.

 

Don't be hard on yourself - Have you ever heard of the saying that we are our own worse critics? Stop being your own critic and don't be hard on yourself. We all make mistakes move on and forgive yourself, just don't beat yourself up over it.

 

Be crazy - Eat healthy every single meal, track your calories making sure you are getting the calories that you need. Only one cheat meal a week, workout 6+ times per week, and have a normal bedtime schedule. Wake up every morning at the same time, have 6 + small meals a day depending on your calorie intake and how active you are, and follow your dreams.

 

Follow this creed and you will have a mindset like CrazyFitnessGuy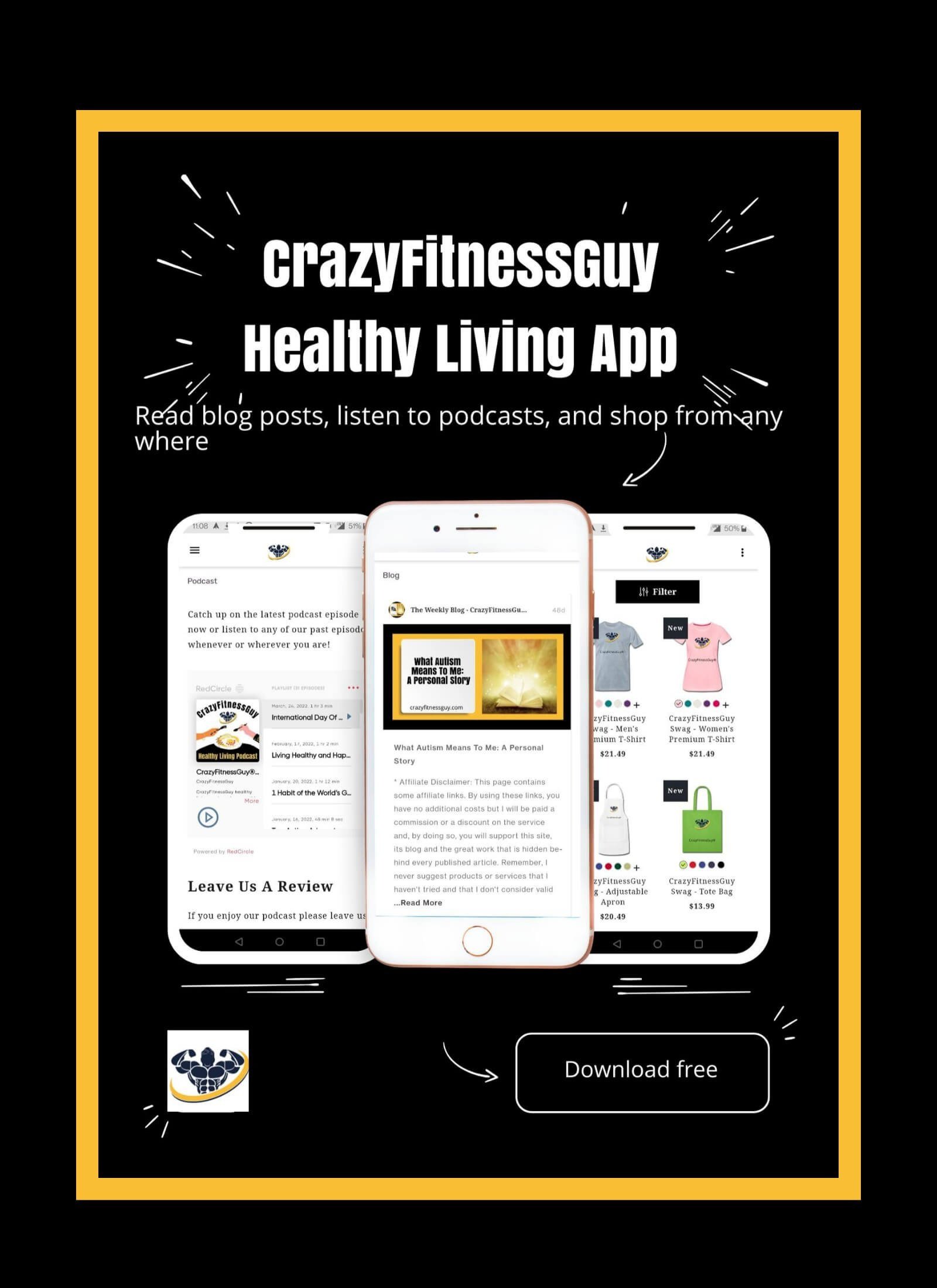 We Go With You
Read blog posts

Listen to CrazyFitnessGuy podcast

Shop for swag

and so much more
Stay motivated and inspired wherever and whenever you are!