I am not a big fan of cooking during the busy week at dinner time.  Not because I am lazy but the time when dinner rolls around I am hungry and I just want to eat and get on with my life.  I have found an amazing service called Eat Clean Bro. In my Clean Eat Bro review you will learn who they are, why I like them, and their competitors.
* Affiliate Disclaimer: This page contains some affiliate links. By using these links, you have no additional costs but I will be paid a commission or a discount on the service and, by doing so, you will support this site, its blog and the great work that is hidden behind every published article. Remember, I never suggest products or services that I haven't tried and that I don't consider valid. (Jimmy Clare) is an Independent Team Beachbody Coach.*
**Fitness Disclaimer:** The Service offers health, fitness and nutritional information and is designed for educational purposes only. You should not rely on this information as a substitute for, nor does it replace, professional medical advice, diagnosis, or treatment. If you have any concerns or questions about your health, you should always consult with a physician or other health-care professional. Do not disregard, avoid or delay obtaining medical or health related advice from your health-care professional because of something you may have read on the Service. The use of any information provided on the Service is solely at your own risk. (Jimmy Clare) is an Independent Team Beachbody Coach.
What Is Eat Clean Bro?
Eat Clean Bro is a food delivery service like Hello Fresh and Blue Apron.  However, they do stuff differently which is clever on their part. Instead of delivering you a box of food with their ingredients for you to cook, Clean Eat Bro sends you boxes full of pre-cooked food already cooked by their chefs.  


All you have to do is put it in the oven or microwave and it's ready to eat.  How amazing is that? I have been using Clean Eat Bro for many months now probably at least 3 to 4 months now.  I love their meals and the company.
Get Eat Clean Bro
Why Eat Clean Bro The Best Food Delivery Service Out There?
They are the best in my opinion because they bring pre-cooked food to your door so what's not to like?  There are more reasons than that.


They are affordable 

Cheaper than eating out or bringing food in

Calorie friendly 

Easy to cook

A wide selection of meals to choose from

Easy to use website

Smooth checkout process 

They deliver and ship to many states

All their meals are cooked to perfection - not exaggerating

All of their ingredients are healthy
Eat Clean Bro Cooking Instructions 
Like I said to you earlier I use the microwave to heat up my Eat Clean Bro meal.  All I have to do is put it in the microwave for 3 minutes on high with the top on and then it's ready to eat.  Simple right?  
Eat Clean Bro Menu Options Has A Lot Of Filters To Choose From
Eat Clean Bro has a variety of food options when searching for meals.  These options include:
Protein 

Carbs

Veggies

Clean

Lean

Mean

Vegetarian

Keto

Low carb

Early bird

Under 500 calories

Specials

Chicken

Seafood

Beef 

Turkey

Other 

Snacks 
As you can see they have quite a bit of filters to choose from when it comes to finding meals.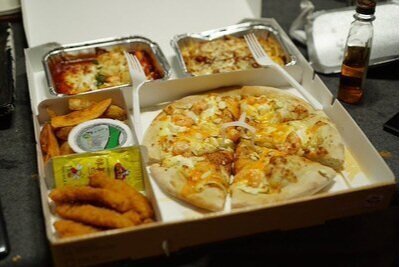 Eat Clean Bro Delivers And Ships 
Clean Eat Bro doesn't just deliver locally they also ship to many states in the USA as well.  They deliver to the following:
Connecticut 

Deleware

Georgia

Maryland

Massachusetts 

New Jersey

New York

Pennsylvania 

Vermont

Virginia

Washington D.C.
For a full list of cities check out areas we serve on their website.
The Difference Between Eat Clean Bro And Other Meal Delivery Programs
The difference between Eat Clean Bro and their competitors is that they deliver pre-cooked food instead of a box full of food that you have to cook with instructions.  So if you are like me who is busy every night of the week at different times then Eat Clean Bro is the right choice for you.


Even if you try to compare Eat Clean bro vs every plate, Eat Clean Bro vs Hello Fresh, Eat Clean Bro vs Blue Apron.  They are all different in their own ways.
Get Eat Clean Bro
Pricing For Eat Clean Bro
On average their meals cost anywhere between 8 to 13 dollars per meal which is cheaper than eating out.  Plus it's healthier as well because every box from Eat Clean Bro is portion size. So you can't overeat unhealthy food.
My Favorite Eat Clean Bro Meals
Some of my favorite meals from Eat Clean Bro include:
Texas Beef With Gluten-Free Cauliflower Mac

Gluten-Free Crack

Frankie Edgar 

Stuffed Chicken Parm

Clean Burger

Gina's Gluten-Free Egg Plant Meatballs With Vodka Sauce

Gluten-Free Turkey Bolognese 

Beef and Bean Chili

Honey BBQ Chicken

Grilled Chicken Wrap With Balsamic Vinaigrette 

Roast Beef Wrap
Some of their desserts are awesome as well.  My favorite dessert that they don't have in stock right now is their gluten-free cheesecake.  They gave you two in a container and it was just amazing. The best part about the meals and the desserts are not having to worry about sugar and calories in them.
Conclusion:
If you are anything like me and the thought of cooking after a long day makes you cringe, then you need to try Eat Clean Bro.  It only takes 3 minutes on high to cook in a microwave they do all the cooking for you before it even comes to your house.  
It's perfect for someone who is watching what they eat, people who love food, people who do not like cooking after a long day, and people who are busy at certain times of the night at weird times like me.  
Stay Motivated And Inspired By Subscribing To Our Monthly Newsletter!
You May Also Like To Read:
The Ultimate Cheat Sheet on How To Eat More Fruits And Vegetables